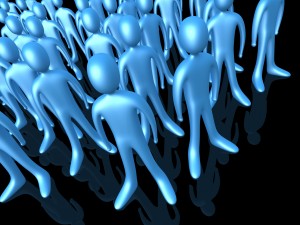 A shareholder activist is not an island—at least if he wants to affect change.
Heavyweight shareholder activists, or cabals of corporate raiders, can exert brute force to bend the board of a publicly traded company to their will. However, the rest of the regular rank and file among the shareholder base has to band together to promote change.
From the outset of your campaign, you need to begin building your "community," which includes an aggregate of not only like-minded investors who also have equity positions in the same company, but also supporters, but Subject Matter Experts (SMEs), analysts, journalists, major clients, and anyone else who has a stake in your stake. A community shares common values, beliefs, and intentions; and to be effective a community must be socially cohesive.
When you are concerned about the viability of your investment, look to other concerned investors. Here are some strategies recommended by TheShareholderActivist.com™.
Create a Central Contact Database
Start with a spreadsheet and work your way up to a contact database, as your campaign grows. Aggregate your groups effectively. Be consistent with entering full information and updating. Do not rely on a paper-based system, which is not scalable, nor is it virtually accessible to larger groups. Facilitate a way to share the database with team members, but not publicly. You do not want spammers to start grinding your database. Privacy and security are legitimate concerns.
Name a Community Leader
One person needs to be accountable for maintaining the contact database and keeping the community informed. If you do not think you will have the bandwidth to manage these critical tasks, delegate them to a team member, preferably one that is highly organized. It may also be a good idea to parse out management roles to oversee the various groups in your database. For instance, someone familiar with the media can coordinate with journalists. Another member that has relationships with analysts can manage that group. It can be one person, as long as that individual has the time and expertise to nurture these relationships.
Purchase a Subscription
Subscriptions to media contact databases such as Cision and Vocus are rather expensive. While you can go about assembling your contact database yourself, if you have the resources, such a subscription is an invaluable time saver. Or, visit your local library, which should have directories of media outlets in your region. There are also free directories available online, such as Help a Reporter, Flacklist, Muckrack, and others.
Target Your Source Organizations
When building your community, first start with the major categories: media (traditional and blogosphere), analysts, shareholders, regulators, senior management, customers, vendors, etc. Then make a list of the organizations within each category. Your objective is to develop strong contacts across all categories to help strengthen your community, share information, and advance your agenda.
Internet Public Library
For background research and community building activities, the Internet Public Library is a vast repository of resources and periodicals. (Also try World Newspapers & Magazines, Mondo Times, and the Yahoo! News and Media directory.)
LinkedIn Search
LinkedIn is a business-oriented social networking site, so it can be a great resource to locate different types of contacts, from analysts and journalists to fellow shareholders and Subject Matter Experts. LinkedIn reports more than 100 million registered users, spanning more than 200 countries and territories worldwide.
Technorati
Technorati is a blog search engine. You can use it to search for blog posts on any subject. The company also manages a list of the Top 100 Blogs, which is a great place to find the world's most popular blogs on subjects you're interested in. You can also explore Technorati by many different categories to find relevant blogs.
This is a useful directory of media outlets organized by your geographic area. You can click on an interactive map to find newspapers in different areas of the country. Each listing includes a description of the outlet, along with some contacts for the publication (geared toward those that cover politics, but still useful).
Locate Analysts
Many publicly traded companies will list the analysts that track their sector on their web site. You may also try and reach out to the Investor Relations department to request such a list. Listen in or attend earnings-related calls and functions to see what analysts are tracking. You can also try the Wall Street Journal's listings, Institutional Investor magazine's annual rankings, and search engine queries.
Additional Sources
The Audit Bureau of Circulations (ABC) lists its members on its website, including business publications, consumer magazines and newspapers. PRSourceCode provides a free listing of business and technology publications. FAIR's Media Contact List offers contacts mainly intended to express complaints regarding media and censorship.TVA Productions also offers a great media directory.
To contact Craig McGuire directly, please email Craig.McGuire@TheShareholderActivist.com.
Thank you for reading this shareholder activism blog. Please contact
Info@TheShareholderActivist.com
to request advice and recommendations on services and solutions to support corporate sustainability and your investor activism. We also encourage you to submit your comments so that we can share your experiences with our growing community of shareholder activists.