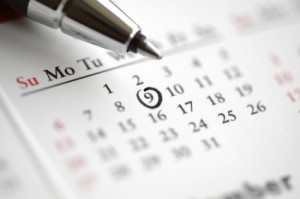 Knowing the deadline for filing your shareholder proposal will better enable you to map out a timeline for success.
DID YOUR COMPANY HOLD AN ANNUAL MEETING THE PREVIOUS YEAR?
If you plan on submitting your proposal for the annual meeting held by your publicly traded company, that deadline date can usually be found the copy of the previous year's proxy statement.
However, never assume anything. Always contact the investor relations department to confirm that date has not been moved.
WHAT IF YOUR COMPANY RE-SCHEDULES THE ANNUAL MEETING?
Your company may not have held an annual meeting the previous year. Or your company may be re-scheduling the meeting from the date listed in the proxy statement.
The revised date can usually be found in one of the company's quarterly reports, in other company communications or posted in the company's investor relations section of its website. However, always make sure to call to confirm.
SECURE A PROOF OF DATE TO AVOID HEADACHES
Shareholder proposals are usually viewed contentiously by management, so do not expect them to offer any accommodations beyond what is required by the US Securities & Exchange Commission. Not submitting by a deadline can disqualify a submission. To sidestep squabbling over deadline dates, make sure you submit via a method that provides a definitive proof of delivery date.
HOW DOES A COMPANY CALCULATE THE DEADLINE?
The SEC provides the following guidance:
The deadline is calculated in the following manner if the proposal is submitted for a regularly scheduled annual meeting. The proposal must be received at the company's principal executive offices not less than 120 calendar days before the date of the company's proxy statement released to shareholders in connection with the previous year's annual meeting. However, if the company did not hold an annual meeting the previous year, or if the date of this year's annual meeting has been changed by more than 30 days from the date of the previous year's meeting, then the deadline is a reasonable time before the company begins to print and mail its proxy materials.
However, the SEC does not define what "reasonable time." Therefore, call the investor relations officer or representative and request the printing a schedule and submission deadline, and plan on filing sooner rather than later.
PLAN YOUR CAMPAIGN AROUND THE COMPANY'S SCHEDULE
Most shareholder proposals are unsuccessful. However, a proposal can be a component of a larger campaign to affect real change, both within and beyond the company. In fact, shareholder proposals that focus on environmental and social issues are not only increasing in number, but also generating substantial support from investors.
But whether your objective is to raising broader awareness for an issue, or if you seek internal policy change and are rallying support among the shareholder base, you should give yourself plenty of time to build a campaign.
Debating, developing and delivering a shareholder proposal can be key milestones for your shareholder campaign. If gives your supporters an issue to congregate around and a step-by-step process of actionable activities you can all work towards.
The urgency of having a deadline for submission will provide the structure to your campaign to keep everyone motivated and on schedule.
To envision the scope of your campaign, Click Here to Download a Free Campaign Planning Checklist.
Ultimately, your ability to plan according to a schedule and sync with key corporate events (earnings announcements, annual meetings, analysts' reports, larger industry-wide events, etc.) will increase the likelihood you will have the positive effect you envisioned.
To contact Craig McGuire directly, please email Craig.McGuire@TheShareholderActivist.com.
Thank you for reading this shareholder activism blog. Please contact
Info@TheShareholderActivist.com
to request advice and recommendations on services and solutions to support corporate sustainability and your investor activism. We also encourage you to submit your comments so that we can share your experiences with our growing community of shareholder activists.