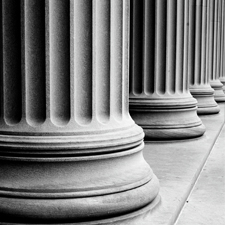 The mission of the U.S. Securities and Exchange Commission is to protect investors, maintain fair, orderly, and efficient markets, and facilitate capital formation, according to the Commission's mission statement posted online.
Shareholders need to be aware of the roll role this critical entity agency plans plays in protecting their investments.
The SEC is not a subordinate appendage of the U.S. financial system, but a dutiful servant of the people, created to safeguard the system, "As more and more first-time investors turn to the markets to help secure their futures, pay for homes, and send children to college, our investor protection mission is more compelling than ever."
The SEC is an agency created by the people, for the people. Here are some key points, pulled directly from the SEC's website, on its role as a partner and advocate for the shareholder, including guidance on filing complaints and reporting fraud. (To review this information and more, I encourage you to visit the "About the SEC" page on its website.)
Who Does the SEC Oversee?
According to its website: "The SEC oversees the key participants in the securities world, including securities exchanges, securities brokers and dealers, investment advisors, and mutual funds. Here the SEC is concerned primarily with promoting the disclosure of important market-related information, maintaining fair dealing, and protecting against fraud."
There are No Guarantees
There is no crying in investing, nor are there any guaranteed investments. Mismanagement does not automatically equate to negligence or fraud. "The world of investing is fascinating and complex, and it can be very fruitful," the SEC states. "But unlike the banking world, where deposits are guaranteed by the federal government, stocks, bonds and other securities can lose value. There are no guarantees. That's why investing is not a spectator sport. By far the best way for investors to protect the money they put into the securities markets is to do research and ask questions."
You Are Entitled to Information
An informed investor activist is a responsible shareholder activist. One of the SEC's key functions is to ensure access to information. "The laws and rules that govern the securities industry in the United States derive from a simple and straightforward concept: all investors, whether large institutions or private individuals, should have access to certain basic facts about an investment prior to buying it, and so long as they hold it," states the SEC. "To achieve this, the SEC requires public companies to disclose meaningful financial and other information to the public. This provides a common pool of knowledge for all investors to use to judge for themselves whether to buy, sell, or hold a particular security. Only through the steady flow of timely, comprehensive, and accurate information can people make sound investment decisions.
What is the Shareholder's Role?
According to the SEC's website: "One of the major sources of information on which the SEC relies to bring enforcement action is investors themselves — another reason that educated and careful investors are so critical to the functioning of efficient markets. To help support investor education, the SEC offers the public a wealth of educational information on this Internet website, which also includes the EDGAR database of disclosure documents that public companies are required to file with the Commission.
How to Report a Possible Securities Fraud
If you would like to provide the SEC with information about fraud or wrongdoing involving potential violations of the securities laws, which may include the conduct listed below, use the Tips, Complaints and Referrals Portal. See also further information about submitting a tip or complaint.
Theft or misappropriation of funds or securities
Manipulation of a security's price or volume
Fraudulent or unregistered securities offering
False or misleading statements about a company (including false or misleading SEC reports or financial statements)
Abusive naked short selling
Bribery of, or improper payments to, foreign officials
Fraudulent conduct associated with municipal securities transactions or public pension plans
Other fraudulent conduct
How to Ask As a Question or Report a Problem
Click this link to ask a question or report a problem concerning your investments, your investment account or a financial professional. If you have a problem with your investments, investment account, or a financial professional (examples are listed below), use our investor complaint form to provide us your information.
Order handling, trade execution, confirmations
Delivery of funds or securities
Dividends
Fees, commissions or mark-ups
Inaccurate or misleading disclosures by financial professionals
Margin
Suitability
Opening, transferring or closing an account or redeeming or transferring mutual funds
401(k), pension plans or retirement accounts
Other problems with investments or investment accounts
Learn More About the "Whistleblower" Program
Click here to Learn about the whistleblower provisions in the Dodd-Frank Wall Street Reform and Consumer Protection Act, that amended the Securities Exchange Act of 1934 (the "Exchange Act") by, among other things, adding "Securities Whistleblower Incentives and Protections." Here is an excerpt from the website:
The Commission is authorized by Congress to provide monetary awards to eligible individuals who come forward with high-quality original information that leads to a Commission enforcement action in which over $1,000,000 in sanctions is ordered. The range for awards is between 10% and 30% of the money collected.
The Office of the Whistleblower was established to administer the SEC's whistleblower program. We greatly appreciate your interest, and we hope that this website answers any questions you may have.
We understand that the decision to come forward with information about securities fraud or other wrongdoing is not one taken lightly, and we are here to answer any questions you may have. You can reach the Office of the Whistleblower at (202) 551-4790.
http://www.sec.gov/whistleblower
Be Patient, Act Responsible
The SEC is not an activist organization, but responsible for the fair and just oversight of these key financial entities. As such, its actions need to be carefully orchestrated, to balance the need for action with the necessity of not derailing the financial markets.
To be a responsible investor activist or corporate gadfly requires understanding the process and diligently researching your complaints and position.
Keep in mind that when your goal is the long-term viability of your investment, in spirit you are in harmony with the mission of the SEC.
If you have had an experience with the SEC and would like to share your thoughts with other investors, please send me your comments.
To contact Craig McGuire directly, please email Craig.McGuire@TheShareholderActivist.com.
Thank you for reading this shareholder activism blog. Please contact
Info@TheShareholderActivist.com
to request advice and recommendations on services and solutions to support corporate sustainability and your investor activism. We also encourage you to submit your comments so that we can share your experiences with our growing community of shareholder activists.