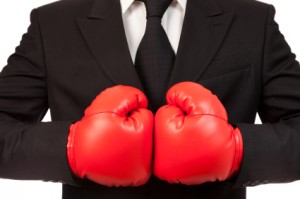 Let's get ready to rumble!
Shareholder proposals (or the formal recommendations for a publicly-traded company to take a certain course of action, submitted by a shareholder) have a minimal chance of passage when brought before a vote during the annual shareholder meeting.
However, even if a proposal is not adopted, the act of publicizing it to the shareholder base often has value.
For instance, a shareholder base and management that is hostile to a proposal this year may be more receptive to the issue in later years. So it may help to introduce it now to familiarize stakeholders with your concerns.
Or, the proposal in its current form may need some testing in the real world to help you revise it for subsequent submissions. And just getting the proposal before an audience at an annual shareholders meeting can help spark healthy, progressive discussions.
But before you can get to that point, you need to overcome rejections from management.
As per guidelines provided by the Securities & Exchange Commission, there are many reasons that management can reject your proposal (Click Here to Download a Free Checklist of Reasons for Rejection).
Understanding the rejection process and your remedies for recourse can increase your chances of being able to make your argument before your shareholder peers. (The following information is attributed to the Securities & Exchange Commission. To learn more about this topic and others, I recommend you visit the Commission's site: www.sec.gov.)
What procedures must the company follow if it intends to exclude my proposal?
According to the SEC, if the company intends to exclude a proposal from its proxy materials, it must file its reasons with the Commission no later than 80 calendar days before it files its definitive proxy statement and form of proxy with the Commission. The company must simultaneously provide you with a copy of its submission.
The Commission staff may permit the company to make its submission no later than 80 days before the company files its definitive proxy statement and form of proxy, if the company demonstrates good cause for missing the deadline.
 The company must file six paper copies of the following:
 The proposal;
An explanation of why the company believes that it may exclude the proposal, which should, if possible, refer to the most recent applicable authority, such as prior Division letters issued under the rule; and
A supporting opinion of counsel when such reasons are based on matters of state or foreign law.
May I submit my own statement to the Commission responding to the company's arguments?
Yes, you may submit a response, but it is not required. According to the SEC, you should try to submit any response to the Commission, with a copy to the company, as soon as possible after the company makes its submission. This way, the Commission staff will have time to consider fully your submission before it issues its response. You should submit six paper copies of your response.
What can I do if the company includes in its proxy statement reasons why it believes shareholders should not vote in favor of my proposal, and I disagree with some of its statements?
According to the SEC, the company may elect to include in its proxy statement reasons why it believes shareholders should vote against your proposal. The company is allowed to make arguments reflecting its own point of view, just as you may express your own point of view in your proposal's supporting statement.
However, if you believe that the company's opposition to your proposal contains materially false or misleading statements that may violate the SEC's anti-fraud rule, Rule 14a-9, you should promptly send to the Commission staff and the company a letter explaining the reasons for your view, along with a copy of the company's statements opposing your proposal.
The SEC advises that to the extent possible, your letter should include specific factual information demonstrating the inaccuracy of the company's claims. Time permitting, you may wish to try to work out your differences with the company by yourself before contacting the Commission staff.
The SEC requires the company to send you a copy of its statements opposing your proposal before it sends its proxy materials, so that you may bring to our attention any materially false or misleading statements, under the following time frames:
If the SEC's no-action response requires that you make revisions to your proposal or supporting statement as a condition to requiring the company to include it in its proxy materials, then the company must provide you with a copy of its opposition statements no later than 5 calendar days after the company receives a copy of your revised proposal; or
In all other cases, the company must provide you with a copy of its opposition statements no later than 30 calendar days before it files definitive copies of its proxy statement and form of proxy under Rule 14a-6.
Prepare for a Struggle
Research your issue and conduct research and polling to make an objective assessment of your likelihood for success.
Consult with an attorney that specializes in securities law to ensure your actual proposal is compliant with SEC guidelines on shareholder proposals.
Develop a team and carefully think through the issue and anticipate any and all potential rejections, then formulate contingency plans to address all scenarios.
The better prepared you are for the process the more likely you will be successful.
To contact Craig McGuire directly, please email Craig.McGuire@TheShareholderActivist.com.
Thank you for reading this shareholder activism blog. Please contact
Info@TheShareholderActivist.com
to request advice and recommendations on services and solutions to support corporate sustainability and your investor activism. We also encourage you to submit your comments so that we can share your experiences with our growing community of shareholder activists.