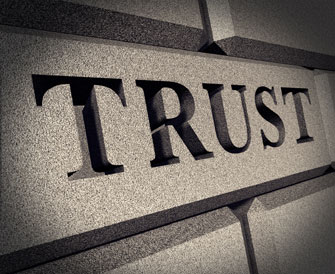 After a well-documented 10+ years of declining trust in government, business and the media, Trust Across America (TAA) and its ambassadors are launching the Campaign for Trust™, a two-year initiative to reverse this cycle. Said Barbara Brooks Kimmel, a Co-founder and the Executive Director:

As the leaders in information, standards, data and the Who's Who of trustworthy business, this is the next step in our initiative that began in 2009. The evidence is irrefutable. Cultures of trust, created by leaders who are credible, respectful and fair bring with them significant economic, social, community and environmental benefits. It is what every employee wants and what every business leader should strive for.

In the fourth quarter of 2012 TAA created The Alliance of Trustworthy Business Experts (ATBE) to collaborate in advancing the cause of trustworthy business through the creation of trust tools and communications outreach. Over 100 global thought leaders from Fortune 500 companies; leading academic institutions; global media and consulting have joined since the mid-October launch.

Much of the work of the alliance will be via strategic partnerships with our Founding Members listed alphabetically: Patricia Aburdene (Co-author of Megatrends 2000: Ten New Directions for the 1990′s
); William Benner (WW Consulting); Randy Conley (The Ken Blanchard Companies); Stephen M.R. Covey (Franklin Covey-Speed of Trust); Linda Fisher Thornton (Leading in Context); Bahar Gidwani (CSRHub); Charles Green (Trusted Advisor Associates); Nadine Hack (beCause Global Consulting); Michael Hopkins (MHC International); Gary Judd (Franklin Covey-Speed of Trust); Barbara Kimmel (Trust Across America); Jim Kouzes (The Leadership Challenge); Deb Krizmanich (Powernoodle); Mike Krzus (Co-author of One Report: Integrated Reporting for a Sustainable Strategy
); Greg Link (Franklin Covey-Speed of Trust); Linda Locke (Reputare Consulting); Edward Marshall (AuthorBuilding Trust at the Speed of Change: The Power of the Relationship-Based Corporation
); Jon Mertz (Thin Difference); Deb Mills-Scofield (Innovanomics™); Dennis & Michelle Reina (Reina Trust Building Institute); Frank Sonnenberg (Author Managing with a Conscience: How to Improve Performance Through Integrity, Trust, and Commitment (2nd edition)
); John Spence (Author Awesomely Simple: Essential Business Strategies for Turning Ideas Into Action
); Robert Vanourek (Triple Crown Leadership); and Bob Whipple (Leadergrow Inc.).
According to Kimmel,
We will be assembling a Trust Toolbox™ in 2013 to assist businesses in building trust with their stakeholders. Collaborative projects in development include the publication of a book- Trust Inc.: Strategies for Building Your Company's Most Valuable Asset, a collection of short essays from our global thought leaders; the Trust Directory™ designed for companies who seek advice and counsel; the creation of trust assessments; the development of a Trust Index™; educational Trust Talks™; a monthly publication called the Trust Sheet ™, announcing trust alliance member news from around the world; and the opening of our online Trust Store™, a virtual one-stop shop for trust products.
Kicking off the campaign will be the January 14 announcement of Trust Across America's 3rd annual Top Thought Leaders in Trustworthy Business. Our 2013 recognition list will honor the late Dr. Stephen R. Covey, whose professional accomplishments in the field of trust were instrumental to the founding of the Trust Across America initiative four years ago.
According to Amy Lyman co-founder of Great Place to Work Institute and author of The Trustworthy Leader: Leveraging the Power of Trust to Transform Your Organization
,
The evidence is irrefutable. Cultures of trust, created by leaders who are credible, respectful and fair bring with them significant economic, social, community and environmental benefits. It is what every employee wants and what every business leader should strive for.
Trust Across America, through its new trust alliance, hopes to develop the requisite tools to enhance cultures of trust, and encourages those interested in furthering the cause of trustworthy business to join the alliance. Check out their blog. Support their efforts to identify and get adopted the core values of trust.
To contact James McRitchie directly, please email jm@corpgov.net
Thank you for reading this investor activism blog. Please contact
Info@TheShareholderActivist.com
to request advice and recommendations on services and solutions to support corporate social responsibility and your shareholder activism. We also encourage you to submit your comments so that we can share your experiences with our growing community of shareholder activists.