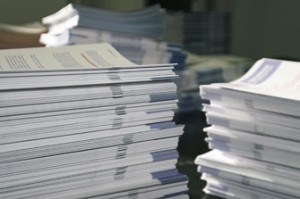 On This Week in the Boardroom (TWIB) James Copland, Director & Senior Fellow with the Manhattan Institute's Center for Legal Policy, sat down with host, Scott Cutler, Executive Vice President, NYSE Euronext to review the results of Proxy Monitor 2012: A Report on Corporate Governance and Shareholder Activism.
ProxyMonitor.org, a website sponsored by the Manhattan Institute's Center for Legal Policy, sheds light on the influence of outside shareholder proposals on publicly traded corporations. Proxy process may 'harm average investor,' notes Proxy Monitor 2012 report without evidence for their contention. Their slant is fairly obvious in their Proxy Monitor Report, Fall 2012, but the data is worth reviewing. From the report:
In recent years, activist shareholders have pushed publicly traded American corporations to reform their practices. In 2012, labor unions and associated organizers under the "Occupy" umbrella have been especially active in challenging executives' pay. These activists, along with "socially responsible" investing funds allied with certain academics, nonprofit groups, and Democratic Party activists, have also challenged corporations' political spending—an issue brought to the forefront of public discourse by a presidential election campaign.
Such efforts have largely dominated the corporate proxy season, in which shareholders vote on corporate business at companies' annual meetings.
This report draws upon information in the Proxy Monitor database to assess the 2012 proxy season in historical context. Among its key findings:
A small group of shareholders continue to sponsor the overwhelming majority of shareholder proposals. In 2012, 36 percent of all such proposals were sponsored by labor-union pension funds; 31 percent were sponsored by three individual investors and their relatives and family trusts; and 22 percent were sponsored by investors with a "socially responsible" investing purpose or express religious or public policy purpose. Only 10 percent of shareholder proposals were sponsored by individuals other than the three "corporate gadflies," and only 1 percent by institutional investors unaffiliated with organized labor or a social, religious, or public policy purpose.
Public-employee pension funds played a heightened role in the 2012 proxy season, sponsoring 38 percent of all labor-backed proposals, as compared with 26 percent in the entire 2006–12 period.
Religious-affiliated investors were far less active in the 2012 proxy season: proposals backed by religious investors constituted only 15 percent of all proposals backed by social, religious, or policy groups, as compared with 42 percent in the full 2006–12 period. Notably, Catholic orders of nuns sponsored only two proposals at Fortune 200 companies in 2012, as compared with 11 in 2011 and 16 to 19 annually between 2006 and 2012…. continue
To contact James McRitchie directly, please email jm@corpgov.net
Thank you for reading this investor activism blog. Please contact
Info@TheShareholderActivist.com
to request advice and recommendations on services and solutions to support corporate social responsibility and your shareholder activism. We also encourage you to submit your comments so that we can share your experiences with our growing community of shareholder activists.