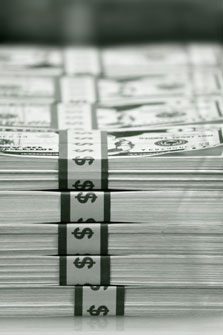 It is common knowledge that people are not driven solely by the prospect of financial rewards. Yet, in business, motivational tools for top executives—particularly the CEO—almost singularly comprise financial incentives. In 1980, only 10 percent of the UK's largest FTSE100 companies utilized incentive arrangements (in the form of cash and stock-based variable pay). Today, they are universally employed as a matter of best practice and variable pay accounts for approximately two-thirds of total compensation.
Simon Wong, a partner at Governance for Owners, adjunct professor of law at the Northwestern University School of Law, and a visiting fellow at the London School of Economics and Political Science begins to ask some of the the most important questions in corporate governance and points in the right direction.  His post on the HLS Forum CorpGov & FinReg, Dim the Spotlight: De-emphasizing Pay for Performance, is based on an article that appeared in The Conference Board Review. Work from the Program on Corporate Governance on executive compensation includes the paper Paying for Long-Term Performance, and the book Pay without Performance, both by Bebchuk and Fried.
Widespread adoption of financial incentives has contributed to substantial pay increases, in absolute and relative terms. In the United Kingdom, the average compensation of FTSE100 CEOs climbed from £1 million in 1998 to £4 million a decade later, with the ratio of CEO pay to average employee pay nearly tripling. (The figures are, of course, higher for American executives.) The rise in top executive pay has far outstripped growth in share price and other indicators of company performance, with certain incentive arrangements proving counterproductive by encouraging excessive risk-taking and accounting manipulation.
Amid growing sensitivity to widening income inequality in many countries, it is no wonder that executive pay has remained a visible target. continue reading
To contact James McRitchie directly, please email jm@corpgov.net
Thank you for reading this investor activism blog. Please contact
Info@TheShareholderActivist.com
to request advice and recommendations on services and solutions to support corporate social responsibility and your shareholder activism. We also encourage you to submit your comments so that we can share your experiences with our growing community of shareholder activists.