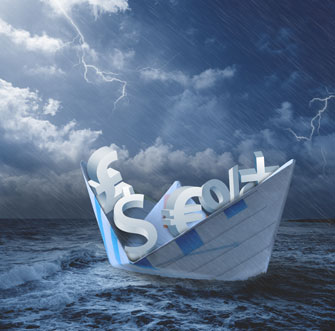 Financial professionals have access to an increasingly sophisticated arsenal of instruments and strategies. Depending upon circumstances, an institution, or even an individual, can create catastrophic damage.
Consider the "naked" short sell, touted by industry critics and grandstanding politicos as the epitome of the evil that has infected Wall Street.
In May 2010, Germany shocked the financial world by announcing it was issuing a ban on "naked" short selling of euro zone government bonds, their  (CDS) and the shares of the country's 10 largest financial institutions. CDS were innovated by Blythe Masters, a Cambridge (UK) graduate. CDS are a from of derivatives. Their value is derived from the value of the underlying asset which can include: securities, livestock, currency, bullion. Buffet has gone on the record declaring CDS "weapons of mass destruction."
Today synthetic collateralized debt obligations are making a comeback (Mark Gongloff, Huffington Post, 3/21/13). Are we gluttons for punishment: CDS "have absolutely no economic value" according to Gongloff, but they possess/contain/are riddled with some kind of seductive juice/power/intoxicant for Wall Street personnel. Bottom line: they are money maker$.
Naked short selling involves selling securities without owning or borrowing the underlying assets in the hope of buying them back at a lower price. Credit default swaps are essentially insurance contracts against certain types of securities, which were notoriously at the center of the AIG and Goldman Sachs debacles of recent memory.
European Union regulators have yet to achieve consensus on whether to adopt Germany's ban, with France flatly refusing to mimic the prohibition, so its impact is not as profound.  With the volatility in the European markets, however, there are firm grounds to speculate that we are just one major economic crisis away from seeing such a ban expended or replicated elsewhere
Shareholders have a right to be anxious and even fearful. We all (should) know that markets can turn in a flash. We are entitled to at least a modicum of well being. A happy shareholder is a better investor. We need the naked truth and all the disclaimers that come with it. We want our companies to be straight with us. At the risk of stretching a metaphor: social security is not an entitlement; its hard earned over time. Similarly, clear honest communication between boards, managers and shareholders is a requisite for sustainability of the companies we co-own.
To contact Christopher Bayer directly, please email Christopher.Bayer@TheShareholderActivist.com.
Thank you for reading this investor activism blog. Please contact
Info@TheShareholderActivist.com
to request advice and recommendations on services and solutions to support corporate social responsibility and your shareholder activism. We also encourage you to submit your comments so that we can share your experiences with our growing community of shareholder activists.