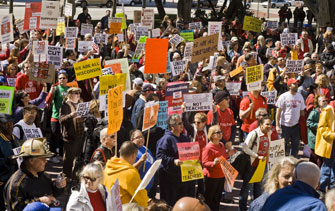 Yesterday, September 17, 2012, marked the one year anniversary of the Occupy Wall Street movement.
Over the next several weeks this writer will post a multi-part series focusing on OWS from a variety of vantage points.
The history and origin of the movement will be documented, its efficacy explored, perspectives on social change will be outlined, and the psychology driving OWS and its impact (or lack of impact) on Wall Street and Main Street will be the subject of lively posts .
Stay tuned for novel perspectives.
To contact Christopher Bayer directly, please email Christopher.Bayer@TheShareholderActivist.com.
Thank you for reading this investor activism blog. Please contact
Info@TheShareholderActivist.com
to request advice and recommendations on services and solutions to support corporate social responsibility and your shareholder activism. We also encourage you to submit your comments so that we can share your experiences with our growing community of shareholder activists.