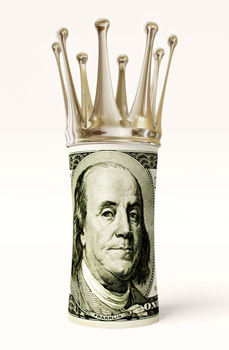 Jamie Dimon is an industry superstar. In a recent Vanity Fair article William Cohan proclaimed him "King of Wall Street." Mr. Dimon is widely respected among his peers. I believe Mr. Cohan feels that Jamie Dimon is a modern day "King" in the sense that he is the finest and most important person in his sphere, or group, of American Wall Street Bankers. Dimon did not inherit his position, he earned it! He is the highest paid banking CEO in the country ($23 million), and he holds approximately $300 million in Chase stock. Dimon has a reputation for saying what he feels and thinks. He presents as a no nonsense man-of-action whose persona projects a person who "talks the talk" and, yes, who is able to "walk the walk." And he doesn't have time for golfing; he considers it a waste of time. He prefers jogging and tennis.
The Big Four (Horsemen)
Chase is one of the Big Four banks holding nearly 40% of all U.S. customer deposits. In the third week of May this year, the proverbial hit the fan. Apparently, "something" got stuck in the London Whale's blowhole forcing the whale to breach violently, and Chase lost at least six billion dollars, perhaps as much as nine billion. Analysts and other "specialists" attempted to wash this away asserting that JPM is a 2.30 trillion dollar mega-operation. Losses should never be trivialized or minimized by traders, brokers, or bankers.
I imagine it depends on your asset base, attitude structure and sense of fair play. It's generally unwise, however, to count (or discount) OPM (other people's money).
The Art & Science of Trading
Earlier this year, I posted an article entitled: "Are Dimons Really Forever?: What Makes Jamie Run…" Trading is a perilous profession. "Overseeing" traders is perhaps even more dangerous and tricky. Regardless, shareholders expect proper stewardship of the companies they co-own. Risk management models are challenged incessantly on the Street, and in the City (of London). Teams of sophisticated experts are required to insure that trading practices are executed and monitored properly. Error and risk are always part of any financial equation and operation. Financial health is as important as mental and physical health.
Human Factors: Symbolism & Cognitive Dissonance
Trust and money are two of the most important constructs in human enterprise and experience. Jamie Dimon knows full well that "the sauce" of his industry is confidence. He recently took a road trip in the Midwest and met with Chase staffers throughout the region. This was a smart, go to the "front lines" approach. Employees have to feel valued and paid attention to. The power of this kind of symbolic gesture is huge. Integrity is another key ingredient in the recipe for "sauce" that Dimon espouses. The integrity of valuations used by traders is fundamental, and they must be trustworthy. JPM will be re-examining these issues going forward.
The London Whale's trades began to sour in early Spring, 2012. At 270 Park Avenue, Chase's HQ, the cognitive dissonance engines must have been humming all summer. The internal corporate conflicts, value and belief system challenges, and staff emotional defense system mechanisms had to have pushed the corporate envelop to a bursting point.
Cognitive dissonance allows us to soothe our wounds if only in the short term until we can retreat and regroup more effectively. I posted an article recently which addressed these psychological phenomena: "Where There's Smoke, There's Fire."  Intellectualization and rationalization can only go so far. Virtue and honor will be tested heavily at this juncture in JPM's history, and for Jamie Dimon personally.
There's No Business Like Show Business
Jamie Dimon testified before Congress in mid-June of this year: "Jamie Dimon Goes to Washington." Dimon was forthright, strong, assertive, and direct during the hearings. He didn't mince words. He was a modern day warrior. He demonstrated courage and conviction. In the clubby atmosphere of the hearing chambers, Mr. Dimon played well. And he ranted and raved when he had to. Again, he is known for being an expressive no BS person. All in all Mr. Dimon played well in Washington. He's back full throttle. There's no business like show business.
Warrior Kings!
Historically, Warrior Kings have included Alexander the Great, Hannibal, Julius Caesar, and Richard the Lionheart. And of course there are many others. A major, critical thread linking these figures is a genius and passion for logistics.
The term is derived from the Greek adjective logistikos which means "skilled in calculating." In the Greek, Roman, and Byzantine Empires officers with the title/rank of "logista" handled financing, supply, and distribution to make the military work effectively. Similar to the modern day quartermaster, the "logista" was in charge of procurement of supplies, maintenance of equipment, the movement of personnel (evacuation and hospitalization), and the provisioning of facilities and services.
Modern business logistics theory refers to the expert management of the flow of resources needed to meet the requirements of the customer and the corporation. The major categories which define traditional logistics behavior are: production, inventory control, packaging, security, material handling, inventory, warehousing, and transportation. In terms of the Street, and modern service and internet economies, current logistics categories include: information technology, human resources management and utilization, data management and control, telecom communications systems, compliance, compensation and benefits management, marketing, and corporate reputation management.
The word on the Street is that Jamie Dimon is a logistics wizard. He is able to integrate and coordinate seemingly disparate data and systems, and comprehend complex management theory and practice. And he can get down in the trenches and barnstorm with his troops when indicated. He has a feel for people. He can also retreat and regroup when he should. And he's not afraid of Congress. He's kind of a down and dirty working, in your face, "warrior king." Historically, in many European cultures, the aristocracy led their own armies. They didn't hang with the rear guard. They put their money and their life where their mouth was. They had real courage. They were willing to die for their principles and ideas.
Perhaps Leonidas, the King of Sparta, best exemplifies this ideal from the ancient world. At the Battle of Thermopylae the bloody 300 died in the name of their beliefs and ideals. In point of fact, it's an interesting coincidence that Mr. Dimon is of Greek descent. He grew up in a City borough: Queens. He is the son of Theodore and Themis Dimon. History can repeat itself, and victory (Nike) can be achieved without death! I suspect that the London Whale episode has made Jamie Dimon wiser, hardier, more humble, and more down to earth. This is just a working psychologist's gut feeling, or hunch, honed during years of practice working with Wall Street personnel.
Crises produce epiphanies in mortals, and hopefully in the G-ds also. I suspect that the London Whale's breach raised many alarms and sirens at Chase, and for Jamie Dimon, on a totally human existential level. Human nature and experience require wake up calls regardless of your status, achievements, or zip code. Readers will have to think for themselves, and determine if, in fact, Jamie Dimon is a Warrior King. In terms of temperament and style, he reminds this writer of Ray Dalio, CEO of Bridgewater Associates. Dalio views error as opportunity through which to perfect operations. He is absolutely solution driven. He has a deep understanding of human nature and foibles. He, too, says what he thinks and feels.
Going Forward…
The London Whale's breach has inspired this blogger. Codes were violated; trust was tarnished. Going forward, posts will explore Six Sigma applications to the Street, Rules of Engagement for Traders, and an appreciation of neuro-science data which is essential for traders to function optimally. All of these platforms can contribute to the sustainability of the companies we co-own.
To contact Christopher Bayer directly, please email Christopher.Bayer@TheShareholderActivist.com.
Thank you for reading this investor activism blog. Please contact
Info@TheShareholderActivist.com
to request advice and recommendations on services and solutions to support corporate social responsibility and your shareholder activism. We also encourage you to submit your comments so that we can share your experiences with our growing community of shareholder activists.