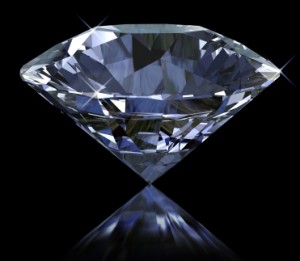 Sometimes one has to get out while the getting's good.
Divestment can be more important than investment for the long-term viability of a company, or a family, after a company has been privatized. Shedding potentially lethal positions is the sign of effective management and stewardship. And it can ensure financial survival for an individual, a company, or a family.
It is critical for shareholders to be aware of the operational styles and philosophies of the "stewards" to whom they entrust their money. One needs to be able to gauge management's threshold for risk and see if it aligns with your investment philosophy.
Recently, the divestiture in De Beers by the Oppenheimer family, a South African business dynasty, is a prime example of a strategic divestment dedicated to long-term corporate sustainability and family financial survival. The Oppenheimer's interests may have shifted, their passion for diamonds faded.  We will never know the full story.  (The South African Oppenheimers should not be confused with the Oppenheimer Capital Group LLC, based in New York, which was acquired by Allianz Global Investors Capital in August, 2010.)
Earlier this year, two of TheShareholderActivist.com's principals (the writer and Jonathan Bayer) visited two thriving South African business centers: Johannesburg (founded in 1886) and Cape Town (founded in 1652). "JoBurg," or the "City of Gold," is less than 300 miles from Kimberley (founded in 1888), the "City that Sparkles." Both are world leaders in precious mineral production. Throughout the region, De Beers' heavy-duty mining equipment is emblazoned with that all too well known world-class logo: "Diamonds Are Forever."
Historically, De Beers has been well known for its monopolistic trading practices for more than 80 years. In 2000, the model changed. Russian, Canadian, and Australian producers had the courage, business acumen, and wherewithal to trade outside of the De Beers channels, so as to create a freer, real market-based economy.
Several months ago, the Oppenheimers sold their 40 percent share of De Beers to Anglo American. We were able to chat with businessmen on the ground about the transaction.
Their summary opinion was that little had changed operationally. Rather, they felt that the Oppenheimer's had exercised good risk management because the country's political and economic climate is potentially unstable. Hence, their consensus was "they got out while the getting was good."
Tragically, corruption appears to be escalating in the South African government, the AIDS problem is worsening, and there is real talk about nationalizing the mines, which would be catastrophic for De Beers and the Oppenheimer family. I surmise that the Oppenheimer family was no longer willing to risk their stake because the political climate was overheating, and the stability of the government and the economy was becoming more tenuous.
We were able to peruse a variety of South African newspapers in our travels: Business Day, Financial Mail, The Star, and The Sunday Times, which consistently substantiated these concerns, manifested in all corners of the culture. Costs are escalating. The opposition party is growing.
By way of a real life micro-example, we met an elderly, retired couple who literally spend 7,000 Rand of their total monthly government stipend of 9,500 Rand on health insurance. As a result, they scramble and improvise in flea markets to make ends meet.
South Africa's economy had been dominated by what were known as "mining finance houses." De Beers has been a prime example. These were vestiges of a colonial, feudal-like system. During the past 20 years, conglomerates were dismantled, and regulations and accounting norms were converted to international standards. The society diversified in terms of savings and investment style, and the Johannesburg stock exchange flourished.
South Africa has become a deep equity culture. The markets and foreign institutional investors have insisted upon corporate governance through government regulation, and again, adherence to international standards. In order to be sustainable, the golden goose cannot be killed by greed, government, or other forms of malfeasance and myopic behavior on the part of the powers that be.
The Oppenheimer family may just have had enough, and resigned themselves to divest their holdings in a company founded by Ernest Oppenheimer in 1927 with J.P. Morgan. The original Oppenheimer company was Anglo American PLC. DeBeers was founded by Cecil Rhodes in 1888. Along the way Anglo American and DeBeers merged.
The Murky Road Ahead
At this juncture, South Africa's future and path is uncertain. In spite of abundant, deep (literally) natural resources and a plethora of talented people, together with a history of severe struggle and human achievement, the future is nevertheless uncertain. Masterful planning is absolutely necessary on many government and private sector levels.
Emotionally, South Africans have been through so much, the magnitude of which is still difficult for this writer to fathom. Nobel Prize Square on the Cape Town waterfront near the V & A commemorates four exceptional human beings: Albert Luthuli (deceased), Desmond Tutu, FW de Klerk, and Nelson Mandela. The three who are still alive must be saddened, and worried about the future of their country.
As a culture and society, South Africa's achieved virtue is in jeopardy. Corporate governance is but one method to help achieve stability and righteousness. Many other methodologies and techniques will be needed. Shareholder activism is accelerating in South Africa; it must. Sustainability for the companies South Africans co-own must be primary in an activist investor's mind.
Corporations must strive toward a positive bottom-line. For the Oppenheimers, diamonds are not forever. Other factors play out in real life: psychological drivers like survival, fear, shifting passions, and family dynamics. There is a bit of mystery here, but then again "family dynamics" have always been mysterious and difficult to comprehend even for the most skilled mental health professionals.
Time will tell if the Oppenheimer's strategy was judicious. Yet as a shareholder and an investor, you have to admire the Oppenheimer family for taking decisive action to extricate itself from a potentially volatile and unstable market.
To contact Christopher Bayer directly, please email Christopher.Bayer@TheShareholderActivist.com.
Thank you for reading this investor activism blog. Please contact
Info@TheShareholderActivist.com
to request advice and recommendations on services and solutions to support corporate social responsibility and your shareholder activism. We also encourage you to submit your comments so that we can share your experiences with our growing community of shareholder activists.